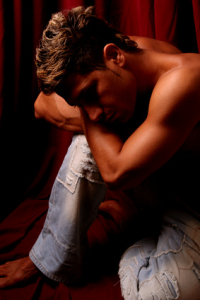 In Sydney, gay party season is upon us. Last week I saw the video for the Mardi Gras Party (that's the main party, the one that is being hashtagged #theresonlyoneparty on Twitter, Facebook and Instagram).
It's a cool production – lots of smooth muscular flesh, costumes and glamour set to a kicking n operatic back-beat mashup – and no doubt it captures the excitement and anticipation of getting ready for this year's night of nights.
Not everyone likes to party. And the video portrays an undeniably youthful scene even though I have noticed a fair number of attendees aged fifty, sixty or seventy plus on the several occasions I've been to the Mardi Gras Party. So it would be nice to think that these events are for everyone, regardless of age, in keeping with the aim of SGLMG to be a beacon of diversity and acceptance and LGBTQI rights.
Are you ready? Want to see it? Here it is:
Sydney Gay Mardi Gras: Are You Ready?
Anxiety, Depression and Mental Health: The Other Side of Gay Party Culture
Everyone who goes to parties makes decisions about how they will enjoy themselves. But those looking to have a good time occasionally come crashing down afterwards. These are the other stories about party culture that, as a counsellor, I hear often enough to know that we also need to prepare our mental health for the party season.
It's important to remember that not everyone at that party is in such a great state of mind when they arrive. Some participants have been having a really tough time of life. They might have recently left a relationship and be struggling with the emotional repercussions of that, or grieving the passing of someone they love. They might have lost their job the same week or have an existing mental health condition like anxiety or depression that is currently affecting them. Some people just don't feel very good about themselves (many people describe this to me as 'low self-esteem') but still try to get out and enjoy their lives nonetheless. And partying can be a way to escape from life's worries for a time. The trouble is that the come-down can sometimes be difficult to take.
Drug use is virtually considered the norm at dance parties in Australia and the Mardi Gras party is no exception. And every year the party medical volunteers care for those who accidentally overdose, have a bad reaction or take substances that they thought were reliable. If you or someone you know ever has a bad reaction to drugs, seek help immediately. ACON has produced a Partying at Home Guide with some good advice.
Gay Party Hangovers: Coming Down After Using Drugs
Another outcome of the exuberant use of drugs  – e.g. alcohol, ecstacy, crystal meth, speed, cocaine, GHB – is that on the days following party weekends, many people experience a significant drop in mood and severe symptoms of depression, anxiety or paranoia. Sometimes these are so bad that they are accompanied by thoughts of not wanting to live or even actively suicidal thoughts. Whether someone has a pre-existing mental health condition or they are just having a bad party hangover, the advice is the same: seek medical help from GP or go to see your counsellor. Don't delay until the symptoms worsen. It's important to put a risk management plan in place.
The Mardi Gras Party is a celebration. It's a celebration of diversity, a celebration of sexuality and liberation. It's an opportunity to come out and enjoy being who you are with thousands of people who will, hopefully, appreciate your uniqueness. So I'd say it's a celebration of life as well. Look after yourself and look after your friends this party season. If you are worried about someone, help them to get support and care. That way we can all look forward to partying again together next year.
How do you prepare your mental health for parties? How do you look after your friends? I welcome your suggestions!